Kasamba Psychic Review

Founded in 1999, Kasamba is a psychic network offering reading services via an instant messenger feature. With over 60 different forms of readings being available in total, including surrounding relationships, fortune telling and dream analysis, Kasamba having gained an excellent reputation when it comes to range of psychics and generous discounts. This review will take a detailed look at Kasamba, including everything from reading types and pricing to security and customer support, demonstrating just why 3 million+ customers are already taking advantage of their platform.
Pros & Cons of Kasamba Psychic Network
Pros: Cons:
+ Large number of psychics available           – Video chat unavailable
+ Free 3 minutes with new psychics              – Refunds only in site credit
+ 15% discount for new members
+ 24/7 customer support
+ Money-back guarantee
How Does Kasamba Work?
For those used to traditional psychic websites, it is worth noting from the off that Kasamba operates quite uniquely. Unlike other platforms, psychics set their own prices at Kasamba, with those with differing budgets being well catered for as a result. Having found a psychic that meets their needs, based on their areas of expertise, price and reviews, people can make contact via the built-in messenger feature, where communication can often begin immediately.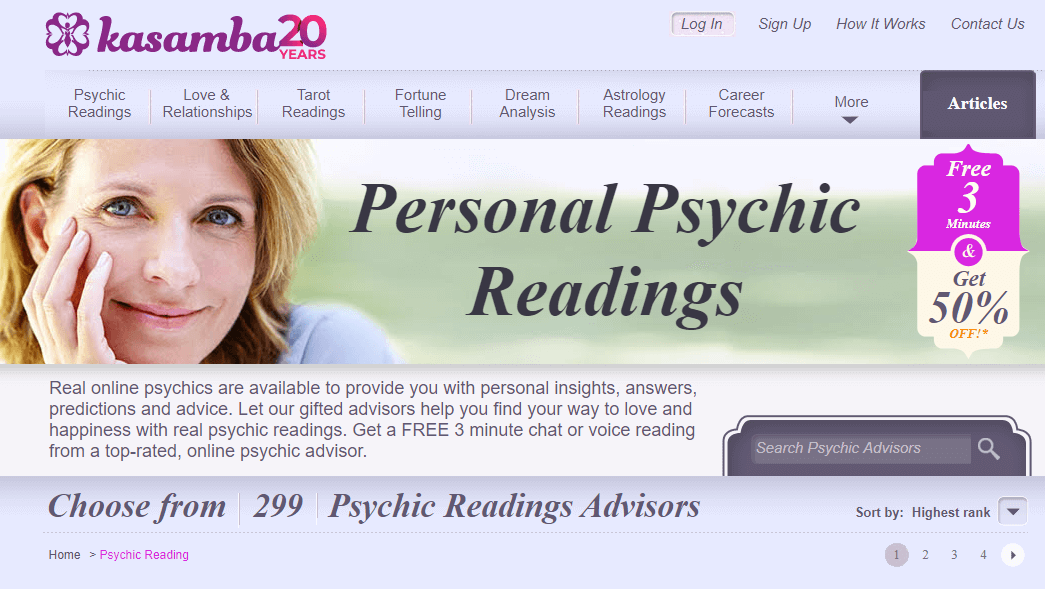 Alternatively, individuals can also make contact with psychics via email or telephone. Having selected the method of contact which best suits their needs, customers must then process their prepayment, before being connected to their psychic. One of the major selling points of Kasamba is the fact that the real-time availability of psychics allows for customers to fit readings in around their schedule, rather than the other way around.
Types of Reading at Kasamba
No matter what type of reading you are looking for, Kasamba is likely to have a psychic to meet your demands. Psychics at Kasamba have both experience and expertise in delivering readings in a range of areas, based on the notion that they have extra-sensory perception, whether it be clairvoyance, clairsentience, clairaudience or clairocognizance.

Based on the both the emotional and energetic state of individuals, psychics offer predictions on the future, as well as providing details from the past in some cases. The following are among the most popular reading types at Kasamba:
Love Readings
Often the reason as to why people seek the services of psychics, love readings look at important relationships, whether it be surrounding the honesty of a partner or the long-term future of two individuals. Love psychics are on hand daily at Kasamba in order to provide readings surrounding cheating, dating, marital life and divorce, among other things.
Tarot Readings
Tarot readings are for those looking for answers when it comes to the past, present and future, using both symbolism and an individual's subconscious in the process. Tarot cards are used in order to deliver readings, with psychics interpreting the story in which they see. Tarot readings can be very broad, covering either specific or more generic topics. Many of the top-rated psychics at Kasamba are skilled in this area.
Fortune Telling
Fortune telling has long been a popular form of psychic reading, with people hoping to find out what life has in store for them. A large number of the psychics at Kasamba list fortune telling in their skill set, with a range of techniques being used in order to look at the destiny of customers.
Dream Analysis
With dreams often being described as the subconscious speaking to people, it comes as little surprise that a number of psychics at Kasamba also work with customers in this area. Dreams are believed to reveal a great deal about people as they are connected with the spirt and playing out scenarios from the physical world. As such, those who specialize in dream analysis are able to tell customers what their dreams or nightmares may mean, allowing them to find the deeper meaning and how it may apply to real life.
Astrology Readings
Astrology has long been a popular pastime for people across the globe, whether it be surrounding horoscopes or your sun sign. However, experts are able to dig deeper than this, allowing customers to find out new information about themselves, using natal birth charts. So, whether you are looking for details surrounding your past, purpose in life or gifts, Kasamba has you covered.
Career Readings
Wishing to know about a potential promotion or wondering whether a change of job will be prosperous, career readings at Kasamba have the answers. Psychics here can offer guidance and potential solutions, allowing customers to achieve success in their working life.
Other Readings
While the above reading types are among the most in-demand online today, Kasamba also cater for people looking for guidance in other areas. Whether it be surrounding religion, intimacy, kabbalah, spirituality or numerology, Kasamba has the psychics for you.
Is Kasamba Trustworthy?
Rightly so, those looking for an online psychic are often concerned as to the trustworthiness of the website. While some platforms have bad reputations for fraudulent activity, this is certainly not the case at Kasamba, with all psychics on their site having been screened thoroughly. While psychic readings by their nature are mysterious and largely unquantifiable, there is certainly some criteria in which people should be on the lookout for.
An international quality assurance team is on hand at Kasamba in order to ensure for the quality of their psychics, with all having to undertake a one-on-one interview, test reading and background check. Meanwhile, Kasamba also regularly review their customer feedback, potentially even following up with individuals in order to maintain standards. As well as this, the fact that each and every psychic at Kasamba comes with their own bio page adds to their reliability, with information surrounding experience, qualifications and languages being on offer to potential customers.
Meanwhile, the reviews of past customers also go a long way to determining the trustworthiness of psychics at Kasamba, with the most popular psychics having thousands of positive reviews. The fact that both positive and negative reviews are found demonstrates that Kasamba are not into sugar-coating, adding to their appeal. Finally, the fact that Kasamba operates a money-back guarantee for unsatisfied customers should also go a long way to proving their worth, with requests having to be made within 7 days of a reading.
Pricing & Promotions
One of the best things about Kasamba is the fact that their site caters for people with differing budgets. As well as this, and especially important for newcomers to the world of psychic readings, a small number of promotions are on hand to make the process easier.
The first 3 minutes of any reading with a new psychic are free, allowing individuals to find out whether there is a connection before spending their own money. Meanwhile, customers at Kasamba will receive 50% off their first full-length reading, perfect for newcomers, with no risk being involved.
Each psychic at Kasamba will set their own prices for readings and sessions, which are normally formed based on their personal experience, popularity and reviews from former or existing customers. Prices at Kasamba can range from $1 to $20 per minute, so be sure to choose a psychic who is affordable, as well as trustworthy.
Favorite Features at Kasamba
Having been online since 1999, Kasamba have added to their list of available features over the years, adding to their excellent reputation in the process. A number of features are now available to customers, with the following being among the most popular:
Chat Transcripts – Customers at Kasamba are able to save the transcripts of chats with psychics, allowing them to relive the experience afterwards. Clients may miss something during readings or wish to reaffirm a particular detail, with this feature providing the perfect opportunity to do just that.
Communication – Kasamba caters for the demands of all customers in terms of the methods of communication offered between themselves and psychics. Whether it be via live chat, email or telephone, all communication is 100% confidential and anonymous.
Banking – Once customers are comfortable and happy with the psychic in which they have located, payments must be made, with Kasamba offering a range of options in this area. Along with traditional bank card methods, PayPal is now the preferred option for many clients, with its speed and convenience being hugely appealing.
Free Trials – As we have already eluded to, customers chatting with a new psychic for the first time will not be charged for the first 3 minutes, something in which other psychic networks fail to offer.
Languages – Kasamba offers readings in a number of different languages, not just English. Both German and Spanish-speaking psychics are available, catering for clients across the globe as a result.
Kasamba Website Usability
The Kasamba website is very easy to use, with all of the most popular psychics being visible as soon as you enter. Meanwhile, customers can also move easily between the different types of readings thanks to conveniently placed tabs, whether it be Love & Relationships, Fortune Telling or Dream Analysis.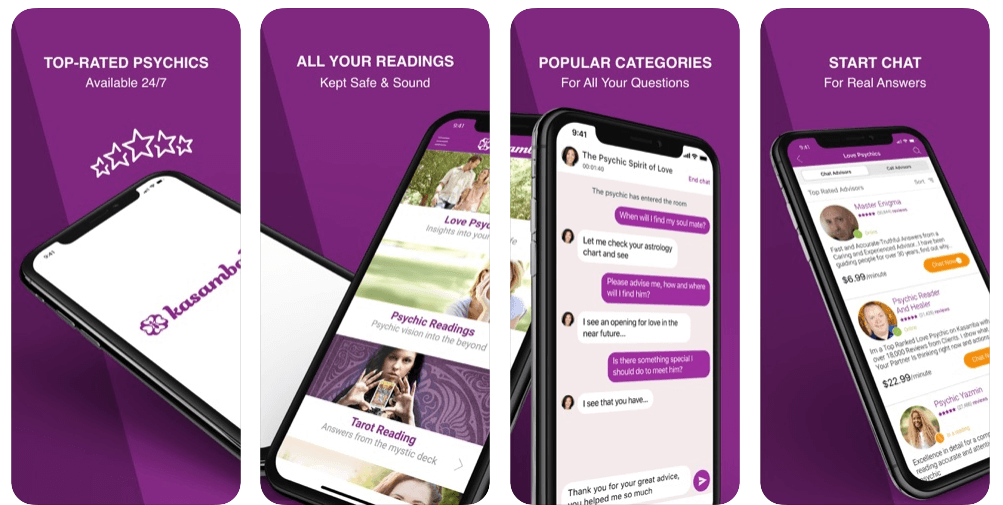 Users are not overloaded with irrelevant information, unlike on other psychic sites, with the Psychic Directory making it easy for clients to browse and read reviews. A purple and light blue color scheme dominates throughout, with the visually pleasing design making it even easier to view the leading features. The speed of the Kasamba site on both desktop and mobile add to the overall user experience, with communication with psychics on their built-in messenger feature being very efficient.
Kasamba Mobile App
Kasamba also ensure that clients can access their favorite psychics when on the move by offering a dedicated mobile app. Available to both iOS and Android users, the app comes with all of the same features as their main desktop site, including 24/7 psychics, live chat, personal horoscopes and customer support. Meanwhile, for those not wishing to download the app, the Kasamba site also works well on a variety of mobile internet browsers.
Kasamba Customer Support
Customer support is available 24/7 at Kasamba, via both email and live chat, with response times being pleasing across the board. As well as this, a hugely detailed FAQ page is on hand to provide answers to popular questions surrounding their operation, while Kasamba are also active on a variety of social media platforms, including Facebook, Twitter and Pinterest.
Kasamba FAQ
The following are both the questions and answers surrounding some of the most important points of the Kasamba operation, perfect for potential clients:
Q. What is Kasamba?
A. Kasamba is an online psychic network delivering readings and sessions for clients around the world via live chat, email and telephone.
Q. Are readings free at Kasamba?
A. The first 3 minutes with a new psychic are free at Kasamba, however after this time clients must start making payments, which differ from psychic to psychic.
Q. Can I make payments using PayPal?
A. Absolutely! PayPal is one of the accepted payment methods at Kasamba, allowing for quick and cheap transactions.
Q. Does Kasamba offer a money-back guarantee?
A. Yes! Customers at Kasamba can apply for money back within 7 days of a psychic session, with the network then deciding whether you are successful or not, with an interview potentially taking place in the process.
Q. Is Kasamba secure and trustworthy?
A. All personal details at Kasamba are 100% secure, while confidentiality is also hugely important on their site. All psychics are also trustworthy, having undergone strict testing in order to be in a position to list their services on their site.
Our Kasamba Review Bottom Line
It should come as little surprise that some 3 million customers have taken advantage of the services and features found at Kasamba, with their psychics having some of the best ratings on the web today. The ease and convenience of sessions and readings cater well for all clients, with psychics being on standby 24/7. The fact that new customers can take advantage of appealing promotions, including free minutes, only adds to the appeal of Kasamba, while their psychics are nothing but trustworthy and skilled.