LifeReader Review: Legit Online Psychics or Scam?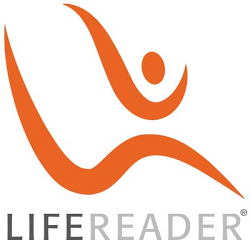 Established in 2009, LifeReader is a psychic reading site catering for clients across the globe. Owned by a company in Auckland, New Zealand, some 40% of their customers are based in the United States, with LifeReader having a good reputation within the industry, as well as being known as one of the cheaper platforms. Readings can be carried out by phone or chat, with this LifeReader review taking a detailed look at their entire operation, including everything from their services and reading types to pricing and customer support. Let's start by outlining the main pros and cons of LifeReader.
Pros & Cons of LifeReader Psychic Network
Pros: Cons:
$.19 per minute readings for new clients              – Video chat unavailable
Free 4 minutes for new customers                         – No money-back guarantee
Readings via phone, chat and email
24/7 customer support
4 horoscope-types available for free
How Does LifeReader Work?
Clients signing up at LifeReader are able to choose any one of hundreds of online psychics, with each coming with their own level of experience and area of expertise. Psychics are on hand 24/7, offering readings in a number of areas, with clients able to make contact via phone, chat and email.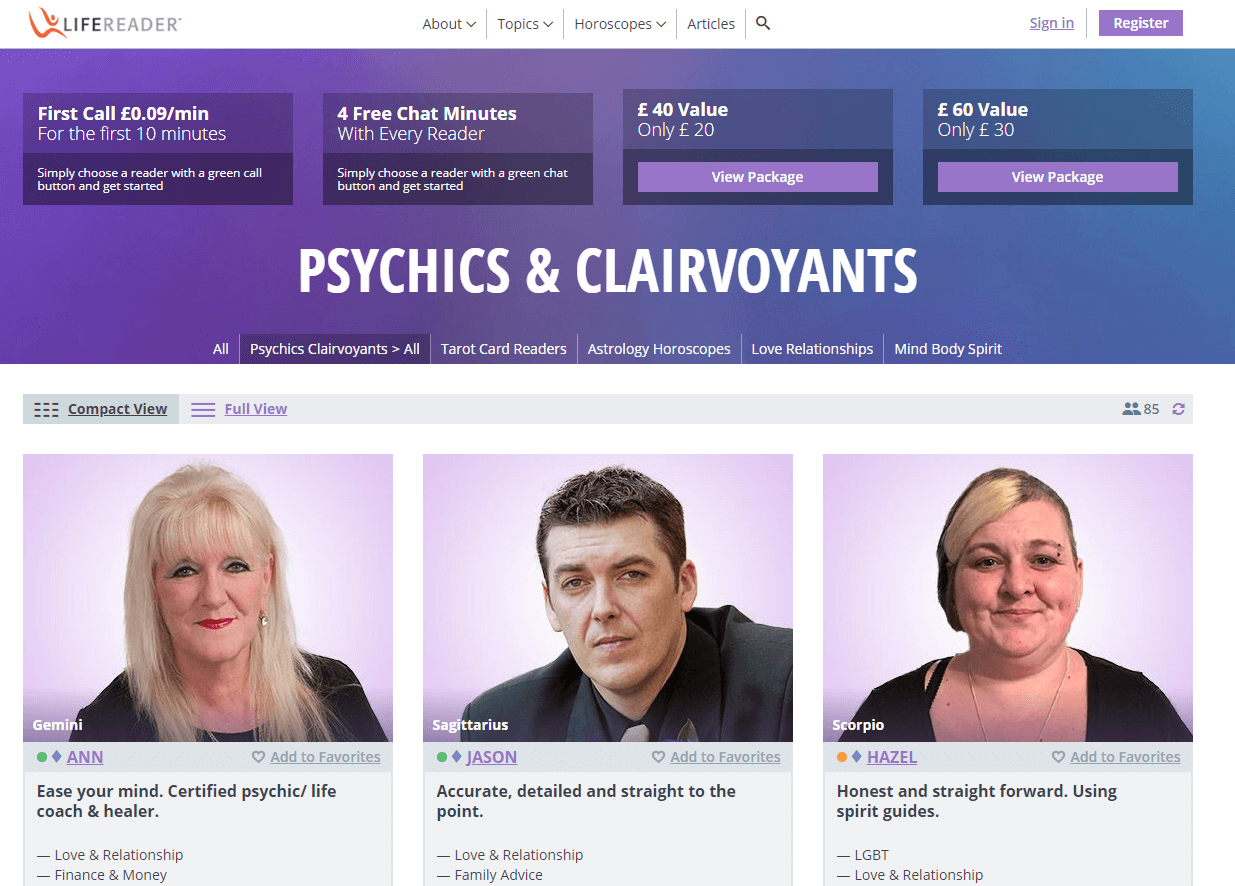 All readings are 100% confidential, while all personal details are kept secure at all times too. At LifeReader, clients are asked to write down questions in which they wish to ask during readings, as well as remaining relaxed in order to maximize interaction and energy. Psychics help in identifying important factors when it comes to happiness, success and the future, allowing clients to make life decisions in the process. As well as readings, weekly horoscopes are available to clients at LifeReader, with no fee being involved here.
Types of Reading at LifeReader
Psychics at LifeReader are able to cater for clients looking for information in a variety of areas, with advisors listing the areas in which they specialize, their experience, how many readings they have carried out and their rating. LifeReader has developed a good reputation as a result of their trustworthiness and accuracy of readings, whether they surround clairvoyance or other extra-sensory perceptions. At the time of writing this review, the following were the main areas of interest for clients at LifeReader.
Love & Relationship Readings
Those looking to change their relationships for the better have a huge amount of options at LifeReader, whether it surrounding a break-up, dating or family. Hundreds of the psychics at LifeReader specialize in this area, helping clients to gain an insight into one of the most important aspects of life.
Tarot Readings
Skat, Crowley and Angel cards, among others, are used in order to help predict the future of clients at LifeReader, potentially providing the motivation and confidence needed to get through a particularly tough period. Tarot readings can be hugely insightful, leading it to become hugely popular at psychic networks including LifeReader.
Mind, Body & Spirit
Physical and mental health is hugely important today, with mind, body and spirit psychics helping clients when it comes to anger management, diet and motivation. Spiritual guidance, life coaching, crystal healing and naturopathy are all techniques used at LifeReader, allowing clients to gain a better understanding of confusing or frustrating aspects of their life.
Horoscope Readings
While free horoscopes are available on a weekly basis at LifeReader, psychics are also on hand to deliver more in-depth horoscope readings to clients. Astrological charts are used, representing the sun, moon, planets and other astrological factors, in order to make predictions.
Methods for Psychic Readings
At present, psychic readings at LifeReader can only take place via telephone calls and online chats, which will come as a disappointment to those who are looking for email and webcam options. Available methods also differ from psychic to psychic at LifeReader, however the majority will offer both available options, catering for all clients in the process. It is clear from the off which methods of reading a psychic offers at LifeReader, with such information appearing on their bio.
It is important for clients to determine which method of reading will best suit their needs, whether communication will be better over the phone or if a better connection can be made using live chat. This is undoubtedly an area in which LifeReader can improve on, however their relatively cheap prices perhaps mean that video chat readings are unlikely to be introduced.
Is LifeReader Trustworthy?
Working out whether a psychic network is trustworthy is hugely important, with there being a number of sites who have poor reputations in this area. While the fact that LifeReader do not offer a satisfaction guarantee is disappointing, their site does have a strict screening process, adding to their reliability.
All psychics at LifeReader are hugely professional, with any new advisors having to have experience in the field in order to be accepted. A test reading must be carried out before they are ultimately accepted, while they must also provide one real image of themselves, with no stock images being allowed. As well as this, background checks are also carried out at LifeReader, with anyone with a criminal record not being allowed to read on their site.
Pricing & Promotions
Clients are charged by the minute at LifeReader, with the pricing structure having been put in place in order to cater for those with differing budgets. Readings take place at three different levels, including $4.50, $5.50 and $6.50 per minute. However, those signing up at LifeReader will be pleased to hear that they will receive four free minutes with every reader, while first calls will be charged at just $0.19 per minute for the first 10 minutes. Elsewhere, a small number of additional packages are available to existing customers, including $60 for $30 and $80 value for $40 deals.
Satisfaction Guarantee Policy
While there is no specific satisfaction guarantee policy at LifeReader, a refund policy is available, which is similar to that found at other online psychic networks. Those who are not happy with a reading in which they have received must email LifeReader at [email protected] within 72 hours of the reading finishing, stating clearly the name of the advisor and the fee paid. Refunds are capped at the equivalent of a 15-minute reading, while they will be returned to your LifeReader account, rather than in cash. It is also worth noting that clients can only have one unsatisfactory reading per month, while it will ultimately be up to LifeReader to determine whether refunds are issued.
Favorite Features at LifeReader
The simplistic nature of LifeReader means that their psychic network is not full of additional features, however there are certainly some which add to the user experience. The following are our favorite features at LifeReader after testing their site:
Reverse Call-back – For times when psychics are unavailable, whether it be because they are busy or offline, clients can request a call-back. Clients are able to provide their registered telephone number, as well as how long they will be around for, with readers then being informed of this request. Alternatively, the LifeMail Intramail can be used to arrange an appropriate reading time.
Articles – LifeReader also provides a blog page, with regularly uploaded articles providing interesting and useful information from the industry. At the time of writing this review, articles included "Let love find you" and "Change your brain, change your life".
LifeReader Website Usability
A white and purple color scheme dominates at LifeReader, colors which are synonymous with the online psychic industry. Their site is very easy to use, with a simplistic design and interface making it easy for users to access their favorite psychics and features. A conveniently-placed menu at the top of the page contains links to different reading types, horoscopes and articles, while clients can view available psychics in either a compact or full view. As well as this, a drop-down menu allows LifeReader customers the chance to quickly separate psychics into their areas of expertise.
LifeReader Mobile
Despite not offering a dedicated app, readings can still take place on the move, with the LifeReader website working well on a variety of mobile internet browsers. While some other psychic networks have achieved success after offering a downloadable app for iOS and Android users, it remains to be seen as to whether LifeReader will follow suit, however for now, their site is fully optimized on mobile platforms.
Customer Support
Customer support is an area in which LifeReader score highly, with a number of communication methods being available to clients. A built-in email system is the most commonly used avenue, while customers can also send messages to [email protected]. As well as this, the following telephone numbers can be used, with response times being pleasing across the board:
United States +1 (415) 448-7507
United Kingdom +44 (0117) 325 3661
Australia & New Zealand +64 (09) 887 9736
Rest of World +1 (415) 448-7507.
As well as this, a detailed help page is also found at LifeReader, providing answers to around 20 of the most commonly asked questions regarding their operation, including everything from payment methods and security to signing up and reserve call-back.
Security
Online security and privacy are of huge importance, especially when operating on psychic networks. As a result, LifeReader has a host of safety measures in place, with no personal details being stored in cookies at any time, while some aspects of their website can be stored in client browser caches, enabling it to load as quickly as possible. As well as this, firewalls add to the level of security at LifeReader, while encryption technology is also used in order to ensure for no third-party involvement.
LifeReader FAQ
The following are both the questions and answers surrounding some of the most important points of the LifeReader operation, perfect for potential clients:
Q. What is LifeReader?
A. LifeReader is an online psychic network delivering readings to clients around the world, with advisors specializing in a number of different areas.
Q. Are readings free at LifeReader?
A. New clients at LifeReader will be charged $0.19 for readings with new psychics, while 4 free minutes are also on offer. From then on, a fee is charged per minute, which is either $4.50, $5.50 and $6.50.
Q. Can I make payments using PayPal?
A. No. Unfortunately, PayPal is not one of the accepted payment methods found at LifeReader.
Q. Does LifeReader offer a money-back guarantee?
A. While a money-back guarantee is not available, LifeReader do have a refund policy, which is available once per month for clients.
Q. Is LifeReader secure and trustworthy?
A. Yes! A number of security measures are in place at LifeReader, including firewalls, while all readings are carried out 100% confidentially.
Q. How Can I make payments at LifeReader?
A. Payments can be made using Visa and Mastercard cards at LifeReader, with no other options being available.
LifeReader Bottom Line
Following our review, it is clear that LifeReader performs well in most areas, with their simplistic and affordable online psychic network appealing to a large number of potential clients as a result. The range of psychics help to cater for the needs of all, with advisors specializing in areas surrounding love, career and mind, body and spirit. With a strict screening process, all psychics come with good experience and expertise, meaning that clients can rest assured that they are receiving reliable readings.
While improvements can undoubtedly be made in terms of their reading methods, with no video calls being available at present, along with their satisfaction guarantee, LifeReader are likely to appeal to many, especially given their attractive pricing structure.